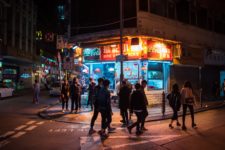 A groove for getting $#!* done.
I originally recorded this track as the 'intermission' music for a project I was working on. It's short, but it has a good vibe to it – forward moving while cool, calm & collected. Primarily driven by drum & bass, it'd make a great interstitial for a podcast, or something good to read your credits over.
This track was 100% built around the harp sample that you hear at the very beginning. I liked something about it's transitional quality so I wanted to find a way to simply support that and keep it driving forward with the bass and the percussion.