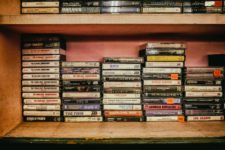 Vintage nostalgia with that good old tape warble
If you've been around the music supply for a while, you'll know that I have a soft spot for old tape warble (like when a VHS tape has been played too many times and the audio starts to drift in and out of tune). This track was born out of that. There's a really great teacher/musician named AfroDJMac who released a tape warble plugin a long while back, so this morning I grabbed my electric guitar, that plugin and I created this.
It's a bit of an ode to being a very emotional music-nerd preteen 😐 and falling into the mixtape making obsession that we all go through. Enjoy! Happy creating.
Also check out AfroDJMac, and if you're interested, you can hear an interview I did on his podcast back in 2018 over here.