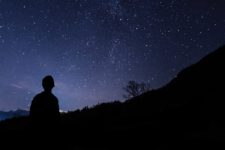 Subtle, sleepy drones in space
This download includes 2 separate WAV files – the one you hear a preview of here, and an additional version with the percussion removed.
Sometimes I sit down and just try to make a nice soundscape to listen to on loop – while I work or read or sleep. This track came out of one of those experiments. It'd be a good choice if you want something low in the background to calm your listeners/viewers. Hope you dig it!