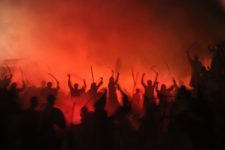 A brief but epic soundtrack to battle
I'll admit that this tune has a very specific niche that it will be useful for. It was originally recorded as part of a high-fantasy project that featured a brief battle scene. While it may not be for every project, now that I've added it to the music library, I hope that this track can help you score your epic scenes too.
The vocals that come in right before the big crescendo were the most fun for me to produce – they were done using a tool by Heavyocity (who make great instruments by the way). I've also included a number of supporting audio loops with this track…
Loopable bass sample
Background low choral drone (loopable)
Female vocal improvisation (loopable)
String section stinger
If you do decide to use this track and need help hitting specific timing cues, drop me a line and I'd be happy to see if I can help out!