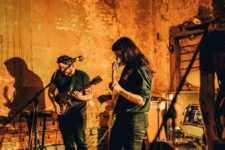 An uplifting garage rock demo tape!
Here's a little indie, garage band track I recorded this morning. I've intentionally left some of the 'polish' off of this so that you get that real '4 kids jamming in the garage' feel. It's two and a half minutes of happy, uplifting indie rock that I can see being a good backer for your next podcast intro.
If you have specific needs for this tune and need it trimmed or mastered differently, let me know and I'll try to help  you out! For now though, enjoy this track for free and go make something!